Salesforce and OpenText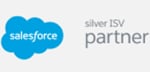 Salesforce is an online solution for customer relationship management, or CRM. It gives all your departments, including marketing, sales, commerce and service, a shared view of customers with one integrated CRM platform.
About the partnership
Salesforce provides some basic content management abilities, however when combined with OpenText's enterprise-class platforms for digitizing, managing, creating, and distributing content, we deliver extraordinary value to Customers.
Talk to OpenText
Benefits
Elegantly manage documentation of any kind in context for business users in Salesforce, spanning ERP and other applications, while addressing compliance, audit and record keeping obligations behind the scenes
Easily generate personalized correspondence from within Salesforce for multi-channel output (print, email, SMS) for customers and partners
Improve the Customer experience across all touchpoints with on-demand access to rich media content right from within Salesforce Marketing Cloud
Gain a true 360-degree view of customers, including data, documents and assets
Products
Salesforce and OpenText have worked to develop a number of Apps for the Salesforce AppExchange over the recent years and continue to create more. These apps typically allow customers to connect Salesforce Clouds, such as Sales, Service, Community or Marketing, to key OpenText platforms. The supported apps can be found on the AppExchange.
Find out more about the OpenText Applications for Salesforce and available products for Salesforce customers.